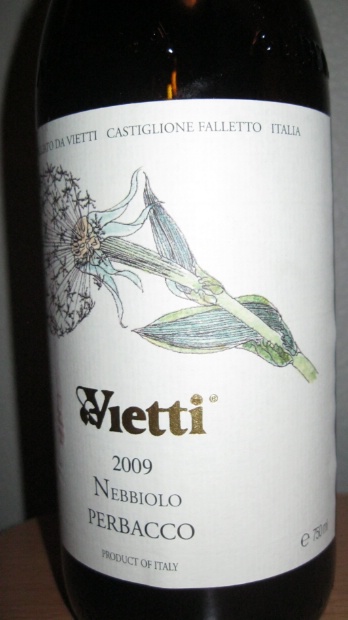 The 2009 vintage was hot and not particularly good for Barolo. Kerin O'Keefe, my go-to source for Piedmont wines, recommends drinking many Barolos and Barbarescos from this vintage "through 2019"compared to several decades for other vintages. Langhe Nebbiolos generally are made for drinking early, but this 2009 Perbacco from Vietti is clearly an exception.
Medium light with orange tones, typical of Nebbiolo. With decanting and a couple of hours aeration, lovely Nebbiolo smells emerge. Not gushy but deep and serious. Licorice, rose petals and a hint of balsamic. As the meal progresses, these scents become irresistible. An "I can sniff this all night" wine. Laid back and elegant on the palate. But again very deep. The rich textures of a Barolo. Dark cherry, red berries and licorice.
Perbacco is never inexpensive, usually $23 to $25 a bottle. But if you like Barolo but shy away because of price, Vietti's Nebbiolo is perhaps the best option. Always serious Nebbiolo, always good.