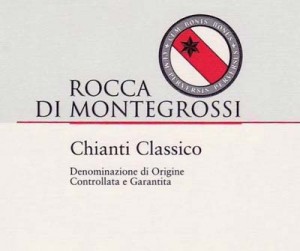 This is not a Super Tuscan; it has the specified grapes (90% Sangiovese, 5% Canaiolo, 5% Colorino) and meets the other requirements for the Chianti Classico appellation. It is, however, from Tuscany and has super-wine qualities--power, concentration and flavor.
Deep and dark with purplish tints. The wine is obviously well oaked, but there is plenty of ripe fruit to back it up. The aroma has some pretty floral notes along with ripe cherry and dark berries. Deep, concentrated flavors. Good balance of tannin and acid.
This is a top-notch Chianti that is well worth its usual retail price of $18 to $20. It's on the wine list (by the glass or bottle) at Gusto Restaurant in Texas Corners, near Kalamazoo, MI, and we took advantage of the Thursday night 40% discount for bottled wine.