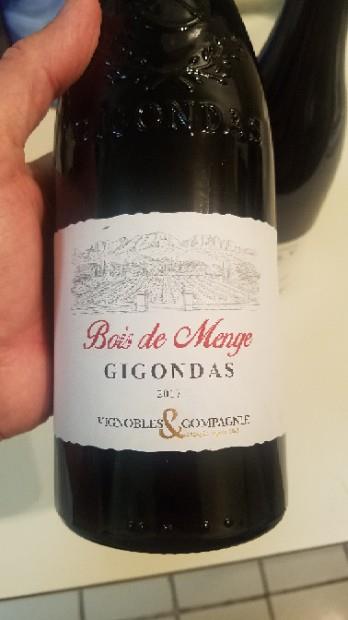 Gigondas is ordinarily a bold wine that develops complexity with 8 to 12 years in the bottle. But drinking one in its youth is an experience in itself, highlighting the wine's unique power and grace. A bargain at $14.99 from Trader Joe's, this Bois de Menge is delightful to drink right now.\
Medium deep ruby. Has the beautiful scents unique to Gigondas--plums, blue flowers, rosemary and thyme. The appellation is only about five miles away from Vacqueyras and less than 50 from Chateauneuf du Pape and the grapes are basically the same; yet each appellation has its own smells and flavors. Power and beauty. When I think Gigondas, I think grilled strip steak, and that's what we're having tonight!
Ripe and rich, fills the mouth with texture and flavor. No new oak influences that I can detect. Although this is a bargain Gigondas, it meets my expectations. I will buy a few more bottles and keep some for later this decade. But I like it right now.